For A New Earth
We mobilize knowledge in philosophy, science, and art and make it available to communities in environmentally sensitive areas for the sake of opening up a public discussion about the future of our planet.
Our common purpose is to transform the imaginations of our Newfoundland and Labrador communities into first, confronting the facts of how climate change and the inevitable end of the fossil fuel age is impacting our lives, and secondly, and more importantly, using our ingenuity to create new ways to sustain our communities both economically and culturally. Together we hope to make a positive contribution to the creation of a greener and more just future. We engage every aspect of local prosperity: arts and culture, natural resources, social enterprises and businesses, schools and religious communities, and political parties and civic initiatives.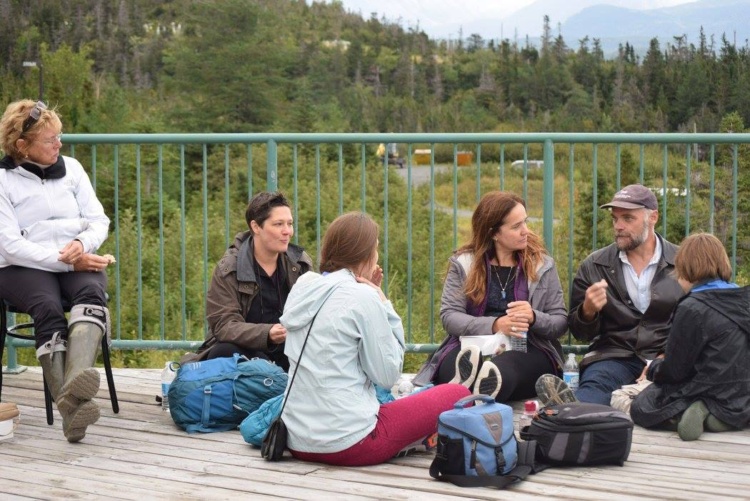 Our pilot project was The Future of Nature: Gros Morne, a festival of ideas held for four days in September 2015 on the West Coast of Newfoundland, which brought together academics, artists, community leaders, and the general public for an unforgettable celebration of the Bonne Bay area and a critical inquiry into its future. In March 2016 we teamed up with the faculty of HSS at Memorial, Queen's College, and the Rooms and hosted the very successful three-days, The Future, the Arts and Ecology, which included, among other highlights, a testimonial by Innu elder Elizabeth Penashue, a Gala at The Rooms where Conception Bay composer Dwayne Andrews and musicians performed.
For a New Earth is in a unique capacity to bring all voices to the table in ecological discussions. We have worked with and partnered with natural scientists, artists, community leaders, government, and experts in the humanities and social sciences. We are a genuinely inter-disciplinary organization and draw particular attention to the cultural and human dimensions of environmental issues, while remaining informed about the scientific and technological aspects of ecology.